8 Mini Workout Tips To Try If You Have No Time To Exercise
Too busy to exercise? Here are some mini workout routines to hack your weight loss plan even if your schedule shows zero downtime.
In between work, school, or taking care of the kids, you're lucky if you find one second to yourself. You still want to exercise and stay fit, but your schedule is so busy that you just can't seem to squeeze it in.
Only an alarming 23% of Americans get the exercise that they need. Don't be a part of the population who struggle to work out. If you don't have time–don't worry.
Fortunately, you don't need to spend hours on an elliptical just to get your daily exercise. Doing small exercises throughout the day only take a few minutes, and some can even be incorporated into your daily routine.
Who needs the gym to get in shape? Here are 8 mini workout tips you should try if you have no time to exercise:
1. Workout With Your Chores
Why not make chores your daily workout routine? Instead of dreading your chores, view them as part of an exercise routine. You may not think of chores as a workout, but the reality is that you're doing work and getting physical activity.
Put extra effort into doing your daily tasks. Doing laundry involves heavy lifting, vacuuming your carpet works your arms and legs, and wiping down your bathroom can tone your biceps. Even something as simple as scrubbing the floor can give you an effective cardio workout.
2. Avoid Elevators
Yes, elevators are very convenient, but you don't really need them to get where you need to go. Don't take the elevator up to the eighth floor–go up the stairs instead.
Need more convincing to use the stairs? Simply climbing 2 flights of stairs per day can lead to a weight loss of 6lbs in one year. Now, just think how much weight you can lose if you climb 10 flights of stairs each day.
You can even try this exercise when you're out shopping. Skip out on escalators when you're at a store and work towards your weight loss goals on the stairs.
3. Break Parking Habits
Are you guilty of always trying to find the closest parking spot? Now is the time to stop that habit. Instead of searching for the spot closest to your destination, you should be looking for the farthest.
Parking far away forces you to walk a longer distance to the building's entrance. If you have multiple places that you're driving to that day, all that walking adds up. Just one simple adjustment can turn into an easy daily workout.
4. Take Advantage of Lunch Breaks
Maybe you're stuck at work all day. By the time you get home, you have no time or energy left for your daily fitness routine. That's why you should start taking advantage of your lunch breaks.
You might cherish your lunch break as a time when you can relax, have a bite to eat or chat with your coworkers, but you can also use this as a time to squeeze in a quick workout. You could go for a 20 or 30-minute walk outside your building depending on how long your lunch breaks are. Bring along a few coworkers and start a fun daily workout.

5. Don't Drive to Work
Getting stuck in traffic during your morning commute is probably nothing new to you. But what if this irritating traffic can be avoided altogether? If you live close enough to your job, consider biking, jogging, or walking to work.
Spending all day behind your desk is just as bad as spending several minutes or hours behind the wheel. Your body just won't get the daily workout it needs.
You could also try hopping off the bus or train early so you have a farther walking distance to your home or work. You might even find out that you'll get to work on foot faster than if you were to take a vehicle.
6. Use Commercial Breaks to Your Advantage
Everyone knows that commercials are annoying–they interrupt your favorite shows and are incredibly boring. The next time you find time to relax in front of your TV, don't sit through the commercial breaks. Make it a habit to get up and do an aerobic exercise while the commercials are on.
Commercial breaks are around a few minutes long and can occur several times during a show. Doing a variety of jumping jacks, push-ups, and crunches, as the commercials play can really make you sweat, and can even get you toned over time.
7. Learn to Multi-Task
Many people tend to avoid workouts because they have to get some other task done, but it's really easy to do both at the same time.
Have to take your dog out? Go for a walk with him around the neighborhood. Maybe you've been meaning to get around to reading that book or finishing a TV show–read the book or watch your show while you're on a treadmill or hitting the gym.
Having entertainment while working out can be your motivation to start incorporating a daily exercise plan into your busy schedule. Better yet, you'll be accomplishing a task, while also reaching your fitness goals.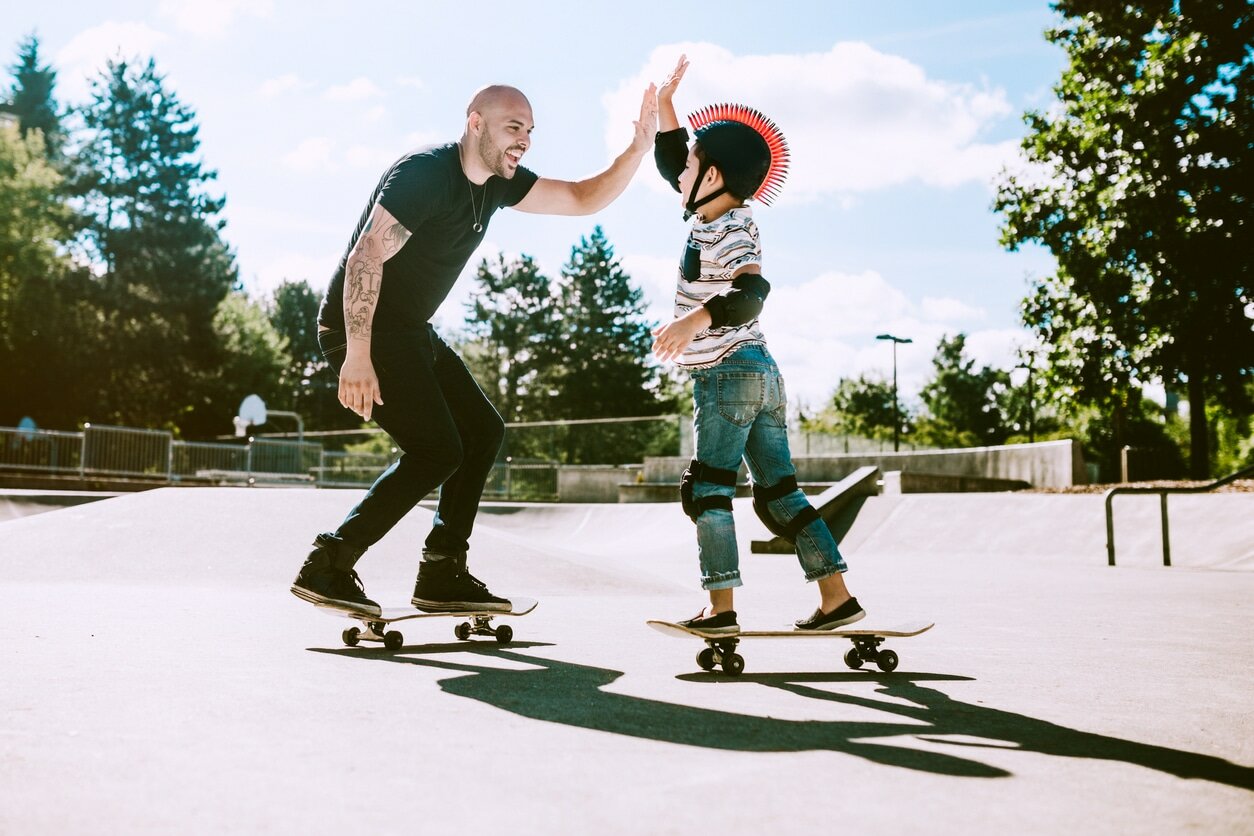 8. Have Fun with the Kids
Daily workout routines can be boring, but kids definitely aren't. They're bundles of energy, and never seem to tire no matter how many laps they run around your yard. Next time your kid wants to get outside and play, go with them.
Suggest playing a game of tag or catch. You'll be surprised at how tired you are after the fun and games end. Not only will you get your heart pumping, but you'll be having a great time with your kid.
You Can Still Get Fit with No Time to Exercise
Having no time to exercise isn't an excuse for not working out. You don't have to dread timely trips to the gym when you can do quick workouts throughout your day. Before you know it, you'll notice yourself losing more weight and having more defined muscles.
Our 21 Day Body Transformation Challenge combines diet and exercise to transform your look. If you want to turn heads for the right reasons, find out more here.

You Might also like
10 Essential Tips For Developing A Healthy Relationship With Food

There's no shame in being a foodie. Still, large portions or a junk food addiction can harm weight loss. Here's to developing a healthy relationship with food.

Do you have a healthy relationship with food? Many people think that, just because they don't struggle with an obvious eating disorder, such as anorexia or binge eating disorder, that their relationship with food is a healthy one.

In reality, though, a lot of people have issues when it comes to the food they eat.

They might be obsessed with eating clean and flinch at the sight of a doughnut. Or, they might have an aversion to anything remotely healthy and choose to eat only junk food. They might claim to eat whatever they want with no concern about the scale, only to turn around and spend hours on the treadmill working it off.

An unhealthy relationship with food can manifest itself in many different ways, and it's not always easy to spot.

The good news, though, is that it's never too late to turn things around.

Read on to learn more about what a healthy relationship with food looks like. You'll also learn some important skills regarding developing a healthy relationship with food.

Why Does Your Relationship with Food Matter?

Depending on where you're at in your health journey, you might be wondering why having a good relationship with food is so important.

First, let's start with the facts. Approximately 71.6 percent of adults in the United States are either overweight or obese. And, at least 30 million people in the United States suffer from some kind of eating disorder.

Clearly, there are a lot of people in this country who have a hard time eating in a way that nourishes and fuels their body appropriately. They may be eating too much or eating too little, but, at the end of the day, the result is the same — a poor relationship with food.

If you have a poor relationship with food, you're likely going to have a hard time maintaining a healthy weight.

You might go through binge and restrict cycles or fall victim to crash diets. Or, you may look physically healthy on the outside but feel bogged down on the inside by the stress associated with constantly worrying about the food you're eating.

Before you can make lasting changes and work toward your health and fitness goals — no matter what they are — you need to make sure you're also working on improving your relationship with food.

What Does a Healthy Relationship with Food Look Like?

It's hard to pin down exactly what a healthy relationship with food looks like. It's kind of like asking someone what it means to be fit. Everyone has a different definition in mind based on their past experiences.

You can't tell, just by looking at someone, whether or not they have a healthy relationship with food. Instead, a more accurate measure is their habits and behaviors.

There may not be one definitive method for measuring a healthy relationship with food, but the following are some common, positive traits to look for.

Ask yourself honestly whether you possess at least some of these traits. If you don't, it might be time to work on changing your relationship with food.

You Avoid Emotional Eating

You don't eat out of sadness, loneliness, anger, or boredom. When something bad or difficult happens, you don't turn to food for comfort.

You Can Eat Intuitively

You're not constantly worrying about the number of calories or grams of carbohydrates in a particular food. You're able to recognize hunger, eat what satisfies you, and stop when you're full.

You Don't Try to "Make Up" for Unhealthy Choices

In the event that you do indulge and consume something that isn't technically healthy, you don't feel the need to "undo the damage" you've caused.

You have a good grasp on the concept of being "cyclically fit." You don't try to burn off the number of calories you just ate or fast the next day to make up for your decision.

You Avoid Comparison Traps

You understand that, when it comes to food, everyone's needs and preferences are different.

You don't compare your body or your food choices to others'. Instead, you just focus on making decisions that make sense for yourself and your lifestyle.

You Focus on Other Things Besides Food

One trait that almost always presents itself in people with an unhealthy relationship with food is the amount of time they spend thinking about food. They're almost always thinking about when they're going to eat next, what they're going to eat next, how it's going to affect the scale, etc.

If you have a healthy relationship with food, you likely aren't constantly planning your next meal. You see eating as a necessary part of life and you eat when you're hungry, end of story.

You Don't Eat Foods That Will Make You Feel Bad

In some circles, there's a mindset that, if you avoid certain kinds of food, it's because you have an eating disorder or an unhealthy relationship with food.

If you truly have a positive relationship with food, though, you understand and respect the fact that some foods don't make you feel your best.

For you, this might mean avoiding sugar because you don't like the blood sugar crash that comes with it. Or, you might avoid eating dairy because it upsets your stomach.

A truly positive relationship with food involves eating foods that make you feel good and avoiding foods that don't, even if everyone else is eating them.

10 Tips for Developing a Healthy Relationship with Food

It's okay if you're feeling a bit overwhelmed at this point. It can be hard to acknowledge that your relationship with food isn't the healthiest. It's also easy to feel as though you'll never be able to flip the script and make things better.

You absolutely can make a positive change in your life, though. Start by implementing these ten tips into your lifestyle to start changing the way you look at and consume food.

1. Eat Mindfully

How do you typically eat your meals?

Do you eat standing at the counter or over the sink? Do you plop down on the couch with the TV on while scrolling through Instagram, doing your best not to drop food on your phone or tablet?

Eating mindfully can help you get in touch with your body's natural hunger and fullness cues. It can also help you enjoy your meal more and feel more satiated. If you have a tendency to overeat, this is an especially great benefit.

The next time you have a snack or meal, start by sitting down in a chair at the table. Don't turn on the TV or look at your phone. Simply eat your meal with no distractions.

2. Express Gratitude for Your Food

Before you start to eat, take a moment to express gratitude for your food. You can do this out loud or silently to yourself.

If you're a religious person, this can be an actual prayer. Or, you can simply say "thank you" and think for a minute about the work that went into the meal.

By pausing for a second before you dig in, you can get into a calmer, more mindful state. You may also appreciate your food more if you take a minute to think about where it came from and the work people had to do to get it to you.

3. Ask Yourself if You're Truly Hungry

Many people start eating, not because they're hungry, but because they're experiencing a troubling emotion. They might be feeling lonely or sad, or they might be anxious or stressed out.

Before you reach for your food — especially if it is a highly palatable, processed food like chips or cookies — ask yourself if you're actually hungry.

Another way to assess your hunger is to ask yourself if you could eat broccoli right now. If you're actually hungry, broccoli will sound appealing. If you're not willing to eat broccoli, you're not really hungry, you're having a craving.

4. Release the Need for Perfection

Accept that there are going to be times when you slip up. There will be times when you eat out of emotion or let yourself get distracted during a meal. It's okay.

Once you realize where you made a mistake, take a step back and figure out why. Then, release yourself from shame and guilt and move on with your life.

Remember, you wouldn't slash the other three tires on your car just because you got one flat.

5. Stop Labeling Foods as Good or Bad

Most people who have an unhealthy relationship with food have a tendency to label foods as good or bad. If this sounds familiar to you, try changing the way you talk about the food you eat.

Instead of seeing foods as good or bad, try looking at them as good, better, and best. Try to make most of your foods come from the "better" and "best" categories, but allow yourself to have some "good" foods every once in a while, too.

6. Don't Keep Problematic Foods in Your House

When it comes to these "good" foods, many people find that it's helpful not to keep them in their house, at least for a while. This is especially true for people who struggle with binge eating disorders.

If there's a food that you have a hard time saying "no" to, do yourself a favor and reduce the number of times you need to say "no" to it. You're less likely to overconsume ice cream if you don't have it in the freezer at all.

Make ice cream an occasional treat that you have to go out to get. Then, when you have it, you'll enjoy it, but won't always be there in the freezer tempting you.

7. Keep a Food Journal

Keeping a food journal is another useful tool. Don't just write down the number of calories or grams of carbs in the foods you eat, though.

Instead, pay attention to the emotions you experienced surrounding your meals and snacks.

Were you eating because you were hungry, or were you trying to cover up an unpleasant emotion?

Writing things down can make them more tangible. It also makes it easier for you to spot patterns and look objectively at your situation.

8. Try Cooking Your Own Food

If you have a tendency to order out several times per week, try cooking for yourself for a while instead.

Cooking at home can help you gain a better appreciation for your food. You'll also appreciate yourself and the effort you put into cooking a nice meal.

Your meals will almost always be healthier when you cook them yourself than when you order out. You'll save money, too!

9. Measure Out Servings

If you do keep certain foods in the house that you tend to overeat, measure out a serving instead of eating straight from the box or bag.

Even if you don't actually put your food on a scale, just putting it into a bowl before eating will help you moderate your consumption and avoid overeating.

10. Learn to Differentiate Between "Snacks" and "Treats"

Finally, it's important to learn the difference between a snack and a treat.

How often have you wanted a snack and reached for something that you knew wouldn't be filling, like a cookie or a doughnut? That wasn't really a snack. It was a treat.

Snacks should satisfy your hunger. Treats, on the other hand, are for pleasure.

If you're hungry and have a couple of hours before you can make dinner, snack on a hard-boiled egg or an apple with almond butter.

Save cookies, doughnuts, and other highly palatable foods for when you want a treat.

Looking for More Inspiration?

If you're not happy with your relationship with food, you can turn things around today. Now is the perfect opportunity to start.

Keep these ten tips in mind and you'll be well on your way to developing a healthy relationship with food.

Our 21 Day Body Transformation Challenge combines diet and exercise to transform your look. If you want to turn heads for the right reasons, find out more here.

Tracking Your Progress: How to Take Body Measurements for Weight Loss

You don't have to rely on the scale to track your weight loss process. Find out how to take body measurements for another way to see your progress.

Want to learn how to take body measurements for weight loss? Then you've come to the best place! We're going to tackle on the sensitive topic of losing weight, and everything it involves.

Many people all over the world struggle with weight loss. It's no mystery that there is an obesity issue in the United States. But what is the culprit behind so much weight gain, and can we stop it?

We're going to be answering all your questions about weight loss and tracking results. We'll take a closer look at all your tracking options, and what's best for you. You'll also gain more tips and tricks for keeping up with your weight loss process.

Keep reading to see the best options for tracking your weight loss body measurements!

Getting Healthy and Losing Weight

You've made the choice to lose weight, congratulations! That's one of the hardest parts done. In truth getting healthy and losing weight is all about the right mental state.

That's where tracking progress carries the most power-encouraging focus. You may be wondering: what's the point of tracking progress?

While some choose to venture into losing weight without a plan, the best option is to have a goal. Goals are achievable! Tracking your progress is what will get you from point A to point B.

Are there other benefits to tracking? Yes, in fact, there are several. We want you to have a full understanding of why tracking progress is a great option for everyone.

Let's examine each benefit closer.

Benefits of Tracking Progress

It's fun to see the difference in your body from start to finish. You might consider taking before and after photos to show everyone your progress. Tracking your measurements is vital for your weight loss progress.

It's more of a mental habit to focus your brain on continuing to lose weight. In our modern age, there are many temptations that can get us off the path of weight loss. There's fast food at every street corner, and full-time jobs make us sleepy.

All we want at the end of the night is to curl up and doze off with a full belly, right? This throws a major wrench in the gears when we're trying to lose weight. That's why tracking your body measurements will keep you from slipping up.

You'll see the exact body parts you've been neglecting. You'll know how to better tailor your nutrition plan. Plus, it'll target a workout routine to get better results.

You'll get to decide if you should get serious and hit the gym or do at home workouts. Let's break apart all the benefits of tracking your progress during weight loss.

Keeping Up Your Motivation

Motivation is crucial for losing weight, so you want to ensure you are practicing the best habits. Listen to music, and get yourself ready to pump some iron. Tracking your progress is a good habit to remind you of your success so far.

It's also going to show you where you need to focus your energy. For example, if you are noticing more weight in your tummy area, you might avoid heavy carb lunches.

Another culprit behind tummy fat is stress hormones! In that case, try out some meditation workouts at the office or during lunch. Quick yoga poses can also release tension that gets stuck in your shoulders from hours of desk work.

It's easy to get caught up in the stress of everyday life. Tracking your progress is a great way to get your mind clear and practice mindfulness. Which leads us to our next topic.

Being Mindful and Understanding Your Triggers

Another benefit of tracking your progress is that you develop mental resistance. That means that it displays all your triggers, and helps you become more mindful. Mindfulness is helpful for losing weight, but also maintaining weight loss.

As you track, you will notice patterns or trends in your data. You will see a clear picture of what makes you overeat or indulge. You can start to avoid foods or drinks that cause your weight to spike.

Drinks like alcohol can sabotage your weight loss goals, so keep up the focus. This can be hard to avoid when you want to have a normal social life. Going out to restaurants is a popular way to socialize, or have work meetings.

The most difficult aspect of avoiding triggers is resisting temptations. This is where tracking your progress comes in to save the day. It's harder to give in to temptation when you know the consequences of overindulging.

While it's hard to say "no," you'll be glad that you were strong and hit your weight loss goal.

What Are Body Measurements

We know tracking progress results are beneficial to our weight loss. Now, let's get into what body measurements are. Body measurements are measurements of body parts like the neck, arms, torso, hips, and so on.

In America, the metric system most people use is inches to record track results. You might have a fitness coach that uses a tape measure for the body measurements. Most times, they use this to jot down your starting body measurements.

They wrap the tape measurement around each body part and see the total number of inches. Here's everything you need to know about body measurements…

How to Take Body Measurements

Taking body measurements is all about precision, and placing the tape in the right place. It's also important to note that taking body measurements will vary in women and men. That's because, of course, women have a bust.

For the most part, the common body measurements for weight loss are:

Arms
Legs
Waist [tummy or gut area]
Hips

These areas will reduce in inches as you lose weight. It will also reveal details about your workout. Here's an example.

If your waist is smaller, but the legs are bigger, then you're practicing cardio or leg exercises. You body measurements are telling, and will more often tell you what you need to focus on.

How to Measure Biceps

Measuring biceps might be the trickiest of the body measurements. Don't worry, it's easy so long as you remember "flex." That's right when you're measuring a bicep, you'll need to flex the muscle.

The goal is to get the tape measure around the bicep at it's highest point. The best way to tackle this measurement is to have the person flex their arm up. Then, tell them to flex their bicep muscle.

Wrap the tape measure around the bicep. Be sure not to pull too tight or let it hang loose. You want a good, solid tension on the tape measure for an accurate reading.

Then, write down the total inches on your recording device.

How to Measure Forearms

Measuring the forearm is along the same idea as the bicep. This measurement can be done with the arm pointing straightforward. Again, tell the person to flex their arm muscles, which will flex the forearm.

Wrap the tape measure around the forearm, below the elbow. Don't put the tape measure on the elbow, and don't get to close to the wrist. You're looking for the highest point the muscle juts out.

Make sure your tape measure is level to the zero. Check the tension on the tape measure. Is it too tight or too loose?

Once you check all your bases, go ahead and take your measurement. Record the amount in inches in your recording device.

How to Measure Shoulders

Face the person you are measuring head on. Take the tape measure and hold it horizontal to the person. Then, place one end of the tape measure in the center of their chest area.

Take the other end and wrap it around their body so it goes over their back and around the other shoulder. Allow the other point to meet with the first end of the tape measure.

This is your measurement. Again, check for tape measurement tension and level the ends starting at zero. Record your measurement.

[For Women Only] How to Measure the Bust

Like a shoulder measurement, wrap the tape measure around the person. Keep the tape measure straight and horizontal. With a gentle tension, wrap the tape measure around the back of the woman.

Fishing the tape measure under each arm, let it rest against either side of the chest. Be sure to align the tape measure at the highest point of the bust.

How to Measure the Neck

The neck is the easiest measurement of all. For men, you'll want to wrap the tape measure around the middle of the neck, below Adam's apple. For women, it's measured around the middle area of the neck.

Here, you want to ensure that the tape measure is straight and horizontal. Check the tense as usual, and line up the tape starting at zero for accuracy.

How to Measure the Waist

The waist for women is at the smallest point. Unlike muscles, you want to get the smallest point where the waist comes in. Picture putting on a belt.

You want to be sure the tape measure is straight and in a horizontal line. If it drops the reading will be inaccurate. Keep a solid tension on the tape measure to avoid inaccuracy.

Wrap the tape measure around the smallest point of the waist. Most times, this is between the space of the bottom of the ribcage and above the belly button. For men, you can gauge placement like women.

Use your hip bones for guidance. Feel out the area above to find out where your body caves in the most on each side.

How to Measure the Hips

For both men and women, you'll want to wrap the tape measure around the width of your hip space. Include in your measurement the highest point of your bottom. Wrap the tape measurement straight, tense, and horizontal.

Be sure to align the measurement with the zero for accuracy. Record your measurement.

How to Measure Thighs and Calves

The idea is the same with these bodies parts as it is for the others. You want to get the circumference of the thickest, or highest point of the muscle. Measure each leg by itself.

Wrap the tape measure around one thigh in the mid-section of the quad area. This is about three or four fingers down from the pelvic region. Remember, that the goal is to measure around the high point.

Measure the right leg the same. For the calves, start off with one leg. Again, look for the highest point of the muscle and wrap the tape measure around.

If you flex for one measurement, stay consistent. You'll need to flex for all measurements to avoid mistakes later on. It's good to make a note if you keep a body measurements chart or have a record keeping.

Body Measurements and Record Keeping

There are different ways to keep track of your progress. You might have a paper journal or graphing paper notebook. Some prefer other avenues like smartphone apps or even excel spreadsheets.

How you choose to record keep is up to you and your convenience. Each has its perks. Weight loss smartphone apps are versatile and nifty. You can download food apps for tracking food items you intake or tracking your workout.

If you like to check your heart rate during a workout, this is a great option. There are apps which will break down each food item you ingest. Some split foods into different percentage groups of nutrition.

This makes it especially easy to see your calorie count, macros, or fats/carbs/proteins. From here you can see if you are eating too many sugars or taking in too much protein.

Changing Your Life With Us

Want firsthand help on how to take body measurements? Let us give you a hand! Try out our popular 9-week challenge for the ultimate body transformation.

Leave 2018 in the past, and embody the new you with a literal new body. This challenge will get you access to all the resources you'll need to make the change of a lifetime. You'll get information on diet and nutrition, and workout routine tips and tricks.

Our 21 Day Body Transformation Challenge combines diet and exercise to transform your look. If you want to turn heads for the right reasons, find out more here.

No More Post-Baby Bump:

14 Tips to Help Busy Moms Lose Baby Weight

As much as you love your new baby, you may not love the body that's left behind. It can be manageable to lose baby weight with these great tips.

Did you know that it takes most women 3 years to get their confidence back after having a baby?

Although our bodies are incredible and can grow humans in 9 months, it takes time for your body to return to its pre-pregnancy shape.

If you want to learn how to shed fat and keep it off as a new mom, here are 14 tips to lose baby weight permanently.

1. If You Can Breastfeed, Do It!

One of the most effective postpartum weight loss tips is to breastfeed your child.

The reason why breastfeeding helps you lose weight is that your body uses fat reserves to help produce milk. Your body is also more efficient at burning the calories you eat every day.

Do keep in mind that breastfeeding mothers need to keep their energy up, which is why you should never diet after giving birth. The desire to shed your pregnancy weight may be high, but you and your baby's health should always come first.

Some women naturally don't produce enough milk for their children or they prefer to bottle feed. If you can't breastfeed, don't fret. There are still plenty of other things you can do to fuel your weight loss efforts.

2. Don't Forget to Stay Hydrated

Losing weight after pregnancy can be as simple as remembering to drink enough water. This tip works well for anyone looking to shed fat.

There are plenty of reasons why drinking more helps you stay slim. Since our bodies are mostly made out of the water, we need to replenish our reserves every day. If you don't drink enough, you'll retain water and feel sluggish.

Drinking water also helps curb your appetite. If your someone who has a hard time knowing when you're full, drinking plenty of water before and during mealtimes will help prevent you from overeating.

Did you know that our bodies' thirst and hunger signals are the same? This means your stomach growls could be your body asking for water. A good method to live by is to drink a glass of water whenever you think you feel hungry. If you still feel hungry 20 minutes later, then you know you're experiencing true hunger and not thirst.

Drinking also helps us eliminate waste easier. The less backed-up your system is, the slimmer you'll feel.

3. Lose Baby Weight by Exercising Smarter, Not Longer

Lots of people have been brainwashed into believing that logging more hours at the gym leads to more success. While some people may thrive in a gym setting, most of us would rather stay in bed.

The best way to stick to an exercise routine is to find a setting, workout, and timeframe that suits you best.

One tip that all moms should know is that you can exercise for 10 minutes and get the same results as someone else who exercises for an hour. The key to losing weight and toning muscle isn't how long you sweat, but how effective your sessions are.

If you can pour all of your energy into an intense 10-minute workout, you'll make progress. This method is much more effective for your goals and happiness than sluggishly pedaling on a stationary bike for an hour while feeling miserable.

4. Take Your Baby for a Walk Every Day

Walking is incredible for weight loss and overall physical and mental health. The best part is that you can also bond with your baby. Even if you don't break a sweat while you walk, you're still burning calories and toning your muscles.

This is a great opportunity to get out of the house so you don't feel stir-crazy at home with your baby. If you know any other moms, invite them to go walking with you. You can have a fitness buddy who can hold you accountable to your goals and help you pass the time with fun conversation.

5. Make Sleep a Priority

Sleeping your fat away sounds too good to be true, but it's one of the best ways to maintain a healthy weight.

The reason why sleep deprivation leads to weight gain is that our bodies turn to eat more calories to make up for the lost energy. When we're tired, we tend to reach for comfort foods full of fats and sugars to feel better.

Sleep also helps fuel workouts. If you're too tired, exercising will feel like an impossible challenge.

Do you have willpower made out of steel? Even if you can resist junk food and stick to your workout routine, your body is still plotting against your weight loss efforts.

One night of sleep deprivation is enough to trigger the release of ghrelin, a hormone that revs our appetite. Excess calories that come from healthy sources still turn into a fat gain.

6. Meal Prep Once a Week to Make Cooking Easier

Cooking at home is the best way to save money and skip unnecessary calories, sugars, and fats. When you're the chef, you control how much you eat and the quality of your ingredients.

However, all new moms know how challenging it is to find any time that isn't devoted to caring for their babies. This is why batch cooking is the perfect method for your weight loss.

If you can get help from your partner or another loved one, dedicating a few hours once a week to batch cooking is easy.

During this time, you can make a big pot of brown rice, quinoa, or other healthy whole grains. You can also bake a pack of chicken breasts or another source of lean protein. Wash and chop all your veggies so they're ready to eat raw or cook in a flash.

Once your prep work is done, all you have to do is reheat your food and season it to create a new dish for meals during the week. Check out these batch cooking recipes that take no time to make.

7. Join a Weight Loss Program That Does the Planning

Most new moms are exhausted, battle mental fog, and have no time for themselves. Losing weight fast requires lots of planning.

If you want to make life easier, join a weight loss program that has a tried-and-true method for fat loss.

All of your meals and calories will be customized for your unique body type and fitness goals so you don't have to think. You can also have access to personal coaches and a community of other people in the program who are there to motivate each other and share tips.

These programs are more effective than solo-dieting because all the details are hammered out to a science. There's no guesswork at mealtimes and the ease of cooking makes it easier to stick to the plan.

8. Eat More Plant-Based Meals

If it comes out of the earth, it's good to eat! Plants are the best health foods because they are low in calories but high in nutrients your body needs.

Meat is linked to excess body fat and illnesses. The reason why meat and other animal products can sabotage your weight loss efforts is saturated fats and cholesterol.

The more plant-based you can eat, the better. If you're up to the challenge, you can even try going vegan for a month. Veganism is one of the most popular weight loss lifestyles because you can eat a lot of wholesome foods with fewer calories.

9. Don't Skip Breakfast or Starve Yourself

Thanks to fad dieting, most people's first instinct to lose weight is to skip meals or starve themselves. While you can get fast results, you'll feel miserable. As soon as you start eating again, you'll put all the weight back on and then some.

In fact, yo-yo dieting is much more dangerous for your health than maintaining a steady BMI. Instead of passing on breakfast, start your day right with a smoothie filled with fresh greens or a hearty bowl of oatmeal with enough fiber and protein to keep you full until lunch.

10. Reward Yourself in Moderation

Did you know that some studies have revealed that cheat meals or cheat days can yield more fat loss than strict dieters?

The reason why treating yourself works is that it gives you something to look forward to after a week of eating healthy. This incentive will help you stay on track.

People who remove all of their favorite foods from their diets are also more likely to binge. Once people binge, they may decide to quit altogether because they think all their efforts have been lost.

Letting the lion out of the cage for a short time each week will help you feel satisfied. Besides, eating more calories one day revs your metabolism so you can continue burning more the next day.

11. Eat Healthy, High Volume Snacks

Have you ever tried eating snacks designed for dieters and felt ravenous 30 minutes later? Although these treats are healthier than other junk food, they're not substantial.

The best way to fill up is to eat nutrient-dense foods that pack a lot of volume for not a lot of calories.

Fruits and vegetables are the best sources of fuel. Check out these no-cook snack recipes that include treats like banana ice cream and sweet potato hummus. If you want a heartier snack, you can dip apple slices in a nut butter of your choice to get a dose of healthy fats.

12. Manage Your Stress and Care for Your Mental Health

Yoga is one of the best exercises that everyone should try. It combines cardio, muscle toning, stretching, and meditation. You can even reap the health benefits by doing it only 5 minutes a day.

Raising a child is one of the most stressful things people can do. Stress turns our bodies into effective fat storing machines. Finding ways to cope with any negative emotions is crucial for your health.

Although yoga is a great place to start, some people can't stand it. Just because one exercise works for one person, it doesn't mean you'll enjoy it. Take some time to experiment with different outlets to find your happy place.

Exercise always makes you feel better because of endorphins, but you can manage your stress in other ways, too. Painting, knitting, scrapbooking, and writing are just a few of the hundreds of different activities you could try.

13. Strength Training

Many women are afraid of lifting weights because they don't want to get bulky muscles like men. However, it's impossible for females to pile on muscle with casual weightlifting.

Strength training is ideal for new moms because it involves lifting light weights for extended repetitions. This will help tone your muscles and burn fat for a sexy, sculpted look.

You don't need a gym membership to strength train, either. Try these at-home workouts that utilize your body weight to help you shape up.

14. Be Patient and Kind to Yourself

The most valuable lesson all women need to learn is self-love. Your body can do unbelievable things and you should be proud of it.

Making a baby takes 9 months. During this time, your organs shift, your abdominals split apart, and your pelvis opens to make room for another human being.

Every mom cherishes those 9 months of beautiful change. After you give birth, you should have the same patience and acceptance of your body as you did while you were pregnant.

Remember how long it took your body to come to its current size and give yourself the same amount of time to shrink down. Celebrities who boast about their bodies a couple months after giving birth have a team of personal trainers, chefs, and designers to make them look their best.

The happier you are with yourself, the more likely you are to stick with your goals. Always strive to be the best version of yourself, but never stop loving yourself along the journey.

Ready to Transform Your Body?

The best way to lose baby weight and keep it off is by committing to easy lifestyle changes. When it comes to shedding fat, even the smallest habits can add up.

If you want guaranteed results within a couple of months, then Body Transformation Coach would love to help you get the body of your dreams the healthy way. Contact us for more information on why our program works and how we can help revolutionize your health.