8 Mini Workout Tips To Try If You Have No Time To Exercise
Too busy to exercise? Here are some mini workout routines to hack your weight loss plan even if your schedule shows zero downtime.
In between work, school, or taking care of the kids, you're lucky if you find one second to yourself. You still want to exercise and stay fit, but your schedule is so busy that you just can't seem to squeeze it in.
Only an alarming 23% of Americans get the exercise that they need. Don't be a part of the population who struggle to work out. If you don't have time–don't worry.
Fortunately, you don't need to spend hours on an elliptical just to get your daily exercise. Doing small exercises throughout the day only take a few minutes, and some can even be incorporated into your daily routine.
Who needs the gym to get in shape? Here are 8 mini workout tips you should try if you have no time to exercise:
1. Workout With Your Chores
Why not make chores your daily workout routine? Instead of dreading your chores, view them as part of an exercise routine. You may not think of chores as a workout, but the reality is that you're doing work and getting physical activity.
Put extra effort into doing your daily tasks. Doing laundry involves heavy lifting, vacuuming your carpet works your arms and legs, and wiping down your bathroom can tone your biceps. Even something as simple as scrubbing the floor can give you an effective cardio workout.
2. Avoid Elevators
Yes, elevators are very convenient, but you don't really need them to get where you need to go. Don't take the elevator up to the eighth floor–go up the stairs instead.
Need more convincing to use the stairs? Simply climbing 2 flights of stairs per day can lead to a weight loss of 6lbs in one year. Now, just think how much weight you can lose if you climb 10 flights of stairs each day.
You can even try this exercise when you're out shopping. Skip out on escalators when you're at a store and work towards your weight loss goals on the stairs.
3. Break Parking Habits
Are you guilty of always trying to find the closest parking spot? Now is the time to stop that habit. Instead of searching for the spot closest to your destination, you should be looking for the farthest.
Parking far away forces you to walk a longer distance to the building's entrance. If you have multiple places that you're driving to that day, all that walking adds up. Just one simple adjustment can turn into an easy daily workout.
4. Take Advantage of Lunch Breaks
Maybe you're stuck at work all day. By the time you get home, you have no time or energy left for your daily fitness routine. That's why you should start taking advantage of your lunch breaks.
You might cherish your lunch break as a time when you can relax, have a bite to eat or chat with your coworkers, but you can also use this as a time to squeeze in a quick workout. You could go for a 20 or 30-minute walk outside your building depending on how long your lunch breaks are. Bring along a few coworkers and start a fun daily workout.

5. Don't Drive to Work
Getting stuck in traffic during your morning commute is probably nothing new to you. But what if this irritating traffic can be avoided altogether? If you live close enough to your job, consider biking, jogging, or walking to work.
Spending all day behind your desk is just as bad as spending several minutes or hours behind the wheel. Your body just won't get the daily workout it needs.
You could also try hopping off the bus or train early so you have a farther walking distance to your home or work. You might even find out that you'll get to work on foot faster than if you were to take a vehicle.
6. Use Commercial Breaks to Your Advantage
Everyone knows that commercials are annoying–they interrupt your favorite shows and are incredibly boring. The next time you find time to relax in front of your TV, don't sit through the commercial breaks. Make it a habit to get up and do an aerobic exercise while the commercials are on.
Commercial breaks are around a few minutes long and can occur several times during a show. Doing a variety of jumping jacks, push-ups, and crunches, as the commercials play can really make you sweat, and can even get you toned over time.
7. Learn to Multi-Task
Many people tend to avoid workouts because they have to get some other task done, but it's really easy to do both at the same time.
Have to take your dog out? Go for a walk with him around the neighborhood. Maybe you've been meaning to get around to reading that book or finishing a TV show–read the book or watch your show while you're on a treadmill or hitting the gym.
Having entertainment while working out can be your motivation to start incorporating a daily exercise plan into your busy schedule. Better yet, you'll be accomplishing a task, while also reaching your fitness goals.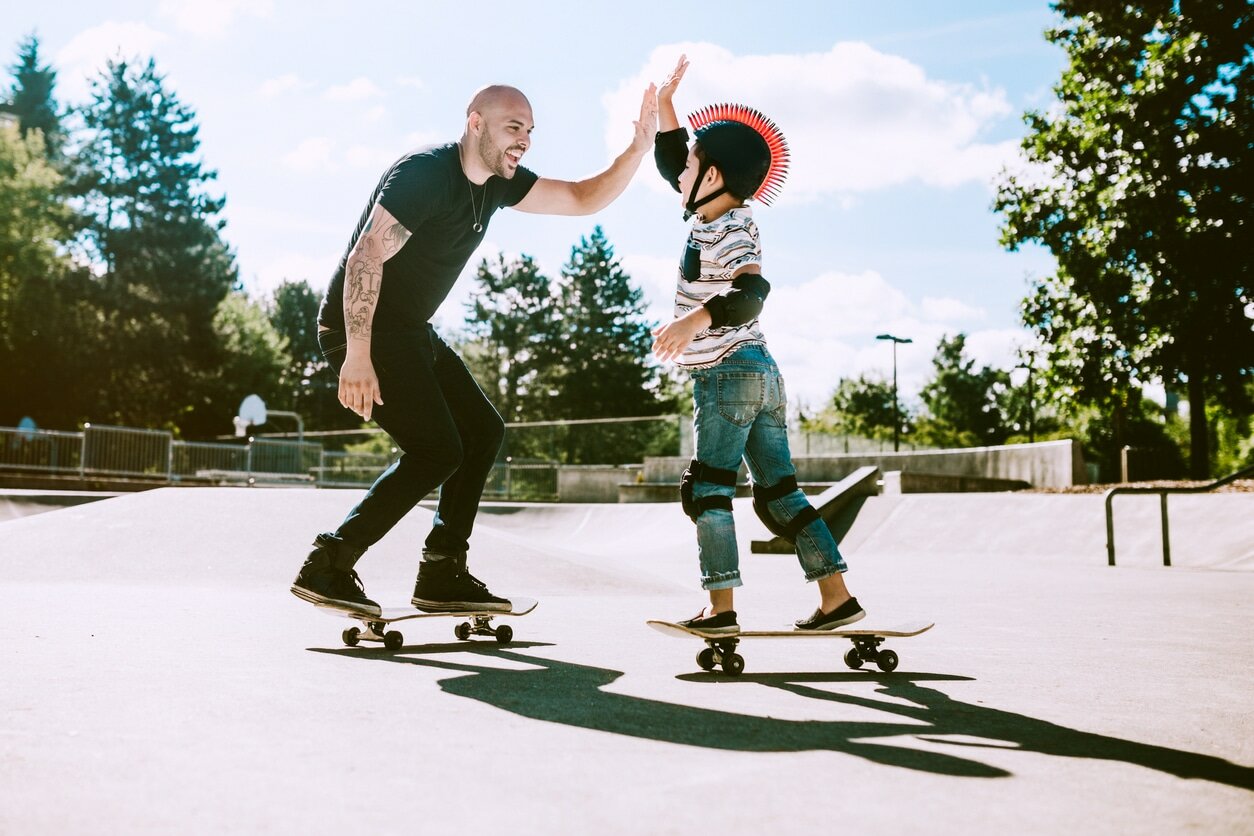 8. Have Fun with the Kids
Daily workout routines can be boring, but kids definitely aren't. They're bundles of energy, and never seem to tire no matter how many laps they run around your yard. Next time your kid wants to get outside and play, go with them.
Suggest playing a game of tag or catch. You'll be surprised at how tired you are after the fun and games end. Not only will you get your heart pumping, but you'll be having a great time with your kid.
You Can Still Get Fit with No Time to Exercise
Having no time to exercise isn't an excuse for not working out. You don't have to dread timely trips to the gym when you can do quick workouts throughout your day. Before you know it, you'll notice yourself losing more weight and having more defined muscles.
If you're still struggling to lose that stubborn weight, we can help. Our Body Transformation Challenge can help you achieve your fitness goals in as little as 9 weeks. Visit our website to learn more.
You Might also like
Cardio vs Weightlifting: How to Decide Which Is Best for Your Weight Loss

You know how it goes.

You try to prepare healthy meals for yourself. Maybe you even count your calories. Sometimes, it just isn't enough.

For those of us who want to lose weight, we need to add some exercise to our routine to see the best results.

With so many options, it can be hard to choose what's best for you. Let's talk about the two most popular types of exercise. Weightlifting and cardio.

Why Diet Doesn't Always Cut It

This is a tough one to say because a good diet has so much to offer.

Don't think that we're saying diet isn't important! You've probably heard the expression: "Abs start in the kitchen." It's true. Diet can account for the majority of our weight loss results. The issue is that for some of us, it just isn't enough.

For some people, the problem is having too many cheat meals. For others, it's simple genetics.

A proper combination of diet and exercise is the most effective way to lose weight. Let's talk about the benefits.

Why Exercise is Important

Let's start with the basics. To understand which form of exercise is right for you, we need to understand what we're talking about.

We all know that diet and exercise can lead to a very healthy life, but why?

Here are just a few benefits of regular exercise, in any capacity:

Increased Energy 

Okay, yes. Sometimes we leave the gym feeling exhausted. There is no denying it.

However, we still benefit from a lot of energy-boosting hormones that develop the more we exercise.

People who work out tend to get better, more effective sleep. This leads to significantly improved levels of energy throughout the day. No more feeling tired at work!

Check out the best times to exercise for better sleep.

Improved Mood and Brain Health

Exercise is known for the benefits to your body. It can go a long way for your overall health, too.

Regular exercise releases hormones and neurotransmitters. These include:

Serotonin – Known as the "Happy Hormone". It regulates mood, social behavior, sleep, memory, and digestion.
Dopamine – Known for pleasurable effects, as well as improved memory and emotions.
Norepinephrine – Promotes memory and focuses attention.

These neurotransmitters are naturally formed by your body. Keeping a healthy balance of them is believed to have a critical role in preventing conditions. These conditions include depression, anxiety, and even dementia.

If you haven't heard enough reasons to start hitting the gym, we're not even done!

Gaining Self-Confidence

This is an issue more and more people are struggling with. Whether we like it or not, we all want to look good.

Nothing helps build confidence like seeing results in the mirror. The best part: the results can keep coming!

Achieve the body you've always wanted, and learn to be happy with how you look!

Increased Strength and Endurance

This is the one we hear about the most.

Have you ever been out of breath after walking up a couple flights of stairs? Maybe you've had an embarrassing moment trying to lift up something heavy. We've all been there.

This is avoidable. Regular exercise can get us in shape, and build our strength!

Clearly, there are a lot of benefits to exercise. Enough to fill up a book. So let's talk about the most popular types of exercise.

Weightlifting

Strength training has been a popular and effective tool for humans since the start of their existence. But everything evolves.

There are so many different forms of strength training, it's hard to keep track. So let's only talk about lifting weights, which has a few subcategories of its own.

Let's discuss the most popular.

Machines

Weight machines are a new development and are very popular. You'll see them in almost every weight room.

There are a lot of benefits to machines, including:

Ease of use – Machines do not require training for form. There are usually images that will show you the proper movement. You also only need to move a pin to change the weight.
Availability – Almost every gym now has incorporated machines into their equipment.
Muscle growth – Varying your machine use is typically used for muscle growth, more than strength.

Let's flip to the other side of the coin. Here are some of the downsides of machines:

Isolation movements – Machines tend to focus on one muscle or one muscle group. Compound movements are more effective for gaining strength.
Limited function – These are unnatural movements and do not translate well into functional strength.
Can increase the risk of injury – With the unnatural movements involved, and the added weight, it can lead to injury.

Here is a helpful guide to weight machines if you want to learn more.

Free Weights

Using dumbbells and barbells is great for functional strength and muscular endurance.

Free weight exercises have a lot of benefits:

Control and stability – Gain more balance and coordination by mastering the movements.
Strength – You will see strength gains in free weight training a lot more than with machines.
Function – Gain functional strength to help you with your daily activities.

The risks of free weight exercises include:

Learning the form – This can take time, but it's absolutely necessary.
The potential for injury – This is especially true if we don't learn the form!

These exercises can include a very wide variety. Here are some examples of free weight exercises.

Powerlifting

This is the best for pure strength. Powerlifting consists of only three functional movements:

Squat – Mimics the motion of sitting down and standing up. Improves leg and core strength.
Bench Press – Uses a pushing motion. Improves chest, tricep and shoulder strength.
Deadlift – Practices the act of lifting something off of the ground. Works on core, back and leg strength.

The benefits of powerlifting are simple: building strength.

The downsides are just as clear:

Training – There is lots of practice involved in learning the proper form to limit the risk of injury.
Limited movements – You also commit yourself to train three specific movements. That's not to say you can't incorporate other training with it. Most powerlifters do.

So we've learned a bit about the different forms of weightlifting. You can learn more about weightlifting here. We will get into the benefits in a bit. For now, let's talk about cardio.

Cardio

Let's dive into a few popular forms of cardio.

Machines

Every gym has some treadmills. This can be an easy way to get started.

We all know about other machines like:

Elliptical machines – Not a very functional movement, but great for burning some calories!
Stair climbers – These are excellent for cardio, but they wear you out quickly.
Stationary bikes – Very popular and easy to use.

These are great. The most obvious downside is that it can get boring. Staying in one place the whole time can make you lose your motivation.

An added bonus is that a lot of these machines will give you feedback. Many will even estimate the number of calories you burn while using them.

There are a lot of different cardio machines out there. Here is a guide to the best and worst cardio machines if you want to learn more.

Running

This is something you can do anywhere.

Whether you're jogging or sprinting, running can be very beneficial.

Find out which type of running is better for you.

Circuit Training

This could be anything. It often involves strength training, but typically with body-weight movements.

Circuit training can apply to pure weight training, as well.

For cardio, it can apply to combinations of running, jumping rope, or anything you can think of.

Check out some ideas on how to develop a circuit training routine.

Weightlifting and Cardio: Which is Better?

We've gone over a lot about how weightlifting and cardio differ. So which one is better? Let's quickly summarize and talk about their benefits and risks.

Benefits of Weightlifting

Let's discuss the overall benefits of weightlifting that all types share:

Increased metabolism – This is a big key to weight loss. Your starving muscles become a fat-burning machine. Calories burned lifting weights are not as much as with cardio. That's during the workout. The "afterburn" more than makes up for it.
Improved strength – This can help you in your everyday life, in more ways than you would expect.
Long-term benefits – It is easier to get out of shape than to lose strength. On top of that, the metabolic benefits tend to last longer with weight training.

Let's also debunk the myth that lifting weights will make women too bulky. It's not a risk unless you are training for it.

An added bonus with weightlifting is you have more freedom. There is a large variety of movements. On top of that, you can change up your weight and rep scheme with ease.

Also, weightlifting can be fun! A lot of people get bored with cardio and other exercises. Weight training can be new and exciting almost every time you start a session.

There are a lot more benefits that we haven't discussed. Talk to a personal trainer or click here to learn more.

Risks of Weightlifting

Let's face it, you can have all of the practice in the world. It can be any type of weightlifting. There is a higher potential for injury.

Luckily, there are skilled personal trainers out there to help you avoid this.

On top of that, you are more likely to feel sore after a strength training workout. While beneficial, this can be a pain. Literally.

Weightlifting can be tough for beginners. The more you train, the more you gain. The risks will take care of themselves with proper training and consistency.

Benefits of Cardio

There are a lot. Cardio is largely associated with the health benefits that we discussed at the beginning. Let's go over just a few:

Fewer restrictions – Cardio can be done anywhere, at any time. No need for equipment.
Heart health – It's in the name.
Burning calories – This is cardio's claim to fame.
Brain health – Cardio is a big help for releasing the hormones and neurotransmitters we discussed. There is really nothing better for it.

It's easy to see why cardio can be appealing. You can let your mind wander and perform your tasks without thinking about it too much.

You also have the benefit of a pleasurable feeling the next day. There is less risk of feeling sore.

Obviously, these rewards don't come without risks.

Risks of Cardio

One possible side effect of cardio is the loss of muscle. This is especially true for distance runners and joggers.

Another issue is exhaustion. Doing extensive amounts of cardio can lead to a hard desire to go to bed.

Last, but not least: fat retention. That's right. Over-training with cardio can make your body adapt to stress. This can make your body lose muscle, and lower your metabolic rate. Research about the pros and cons of cardio to learn more.

No good thing comes without downsides. There are ways to avoid these. The longer you keep up with your training, the easier it gets.

Check out the 6 crucial facts of cardio to learn more.

The Winner

The edge has to go to weight lifting. The benefits of the "afterburn" are too hard to pass up. That increase in metabolism is extremely helpful in losing weight.

This is not to say that a combination of the two is a bad idea. There is nothing wrong with running and lifting weights. Cardio and weightlifting can go hand in hand.

Think about it. The stress reduction and other health benefits of cardio? The strength and metabolism boost from weightlifting? They make a great pair.

None of this can be accomplished without getting started. If you're already doing cardio, and want to change it up, read up on how to start weightlifting now!

What's Right For You?

Honestly, there is no right answer here.

The best advice we can give is to utilize the best of both worlds. Weightlifting and cardio. Or at least to try them both out and see what is best for you. Sticking to the plan is the most important part.

Either way, we've learned the benefits of exercising. There's no need to wait. Now is the best time to start losing weight!

Check out our 9-week challenge and get started today!

17 Fun Weight Loss Rewards to Help Keep You Inspired

According to a Centers for Disease Control and Prevention study conducted a few years ago, almost 50 percent of Americans are trying to lose weight at any given time.

Some people are attempting to shed a few pounds to make themselves healthier. Others are doing it in an effort to look better in their clothes. And there are, of course, some moms looking to bounce back from pregnancy and lose baby weight.

There are so many different reasons to lose weight, but finding the motivation to do it can be tough. It's why you should consider treating yourself to weight loss rewards throughout your journey.

Exercise rewards will make you more motivated than ever before to lose as much weight as you can. They'll also give you something to look forward to as you strive to lose weight.

Here are 17 rewards that are guaranteed to keep you inspired.

1. Purchase New Workout Gear

There are a lot of people who make the mistake of treating themselves to new workout gear as soon as they commit to getting back in the gym to lose weight. They think it'll help them take their commitment more seriously.

Resist the urge to do this and wait until after you've established a routine before buying new workout gear. It'll prevent you from buying gear that you don't actually need. It'll also allow new workout gear to serve as one of your very first weight loss rewards.

2. Treat Yourself to a Massage

Is your goal to completely transform the look of your body by losing weight? This 9 Week Challenge will provide you with everything you'll need to make your weight loss dreams a reality in a short amount of time.

You will, however, find that you're pretty sore during the first few weeks of working out. Your muscles are going to ache, and your entire body will feel drained at times.

This is not necessarily a bad thing! It's actually a sign that your body is responding to the workouts you're doing and getting into better shape. But that won't make you feel any better when you're very sore.

A massage can take care of the soreness and inflammation you might feel following a string of hard workouts. It'll also improve your blood flow and make your muscles feel looser than they would otherwise.

Treat yourself to a nice massage to get your body feeling its best again. This will motivate you to get back into the gym quicker.

3. Take a Beach Vacation

A study that was done a few years ago revealed that about one-third of Americans would rather take a trip to the dentist's office than put on a bathing suit. They simply can't stand the way they look in a swimsuit.

This won't be a problem for you once you start losing a bunch of weight. You're going to be excited about slipping into a swimsuit for the first time in a long time.

Circle a date on your calendar and tell yourself that you're going to take a beach vacation at that time. You'll feel an unprecedented amount of motivation every time you go to the gym when you use beach vacations as exercise rewards.

4. Try a New Hairstyle

Once you start losing weight, you're going to have to get used to hearing, "You look so much different!", every time you bump into someone who hasn't seen you in a while. They'll be blown away by your new look.

Why not start getting used to it now by trying a new hairstyle? Whether you decide to chop all your hair off or just make a small change to it, it'll help you prepare for all the looks you're going to be getting when the pounds start coming off in the coming weeks.

5. Participate in a Recreational Sports League

There's a reason why about 80 percent of American adults don't get enough exercise on a regular basis. It's because they don't enjoy the monotony that comes along with going to the gym day after day after day after…well, you get the point.

When you spend almost every day in the gym, it can start to get boring after a little while. So why not spice things up by finding fun ways to exercise in between gym workouts?

One good way to do it is by participating in a recreational sports league. There are adult leagues all over the country that would be more than happy to welcome you into the mix.

You can sign up for a sports league on your own and meet some new friends or team up with your existing friends to start your own team. Either way, it'll allow you to blow off some steam while taking part in something you enjoy.

6. Get a Tattoo

We've already talked about how you're going to want to show off plenty of skin once you begin losing weight. Going to the beach and sitting by the pool will start to become the norm for you when you're not carrying around a bunch of extra weight.

And while you're showing off your skin for the first time in a while, won't it be great to show off a new tattoo (or two?!), too? Tattoos make great weight loss rewards for those who are ready to start showing off their muscles more in the future.

Studies have shown that about 40 percent of Americans now have tattoos. Additionally, 25 percent have more than one tattoo. Treat yourself to some fresh ink today and use it to remind yourself of how far you've come so far.

7. Pick Up New Running Sneakers

Most fitness experts will tell you that it's smart to replace your running sneakers every 300 to 500 miles. That might seem like a long time in between sneaker replacements, but it'll sneak up on you when you're knocking out a few miles at a time.

If your current sneakers are on the older side, throw them in the trash and replace them with new ones as one of your exercise rewards. You'll love how they fit, and you'll cut down on your chances of suffering feet and leg injuries thanks to your new sneakers.

8. Have Updated Headshots Taken at Work

Do you cringe every time you look at the photo on your work ID? Or do you have a professional headshot on your company's website that makes you want to quit tomorrow just so that they'll take the picture down?

Now is the perfect time to do something about it. Walk into work as soon as you can and ask for a new photo to be taken of you. As long as you like the weight loss progress you've made thus far, it'll give you an opportunity to show off how far you've come.

9. Splurge on a Mani-Pedi

The best weight loss rewards are the ones that allow you to pamper yourself. We already talked about the benefits of getting a massage, but there are other ways you can pamper yourself when you're not lying down on the massage table.

Splurging on a manicure and pedicure is one terrific option. You'll feel so relaxed after heading down to the salon to get both your fingernails and your toenails pampered.

And if you need more rewards than just that? Go all out and visit a local spa for a mani-pedi along with a facial and whatever other spa treatments they have to offer.

10. Enroll in Cooking Classes

Working out is obviously one of the keys to losing weight. You need to burn as many calories as you possibly can in the gym to see the pounds start to fall off.

But outside of working out, it's also important for you to eat healthily. This starts with finding the right foods for your specific body type and also includes learning how to prepare the proper meals in your kitchen.

To make it easier for you to diet, consider enrolling yourself in some cooking classes so that you can learn how to cook things that will taste good and be good for you. This is one of the weight loss rewards that will continue rewarding you for a long, long time.

11. Buy a Better Mattress

In addition to working out and eating right, there's one other thing you'll need to do to lose weight: Sleep! Sleep will allow your body to recover from your workouts and make losing weight easier on you.

The problem? Americans are becoming more and more sleep deprived by the year. Smartphones, Netflix, and all the other technological advances that have come along have made sleep expendable for some people. It's why one-third of Americans don't sleep enough.

Avoid being sleep deprived by buying yourself a better mattress. It'll make you want to spend as much time in bed as you possibly can moving forward.

12. Invest in New Headphones

Are you still using the headphones that came with your smartphone to listen to music at the gym?

Put an end to that immediately and invest in high-quality headphones that will enhance your workout. Ideally, you should look for a pair of Bluetooth headphones that will sync up with your smartphone or, better yet, your smartwatch and make it easy to scroll through your workout playlist.

13. Put Together a New Playlist

Speaking of a workout playlist, you do have one of those, right?

If not, get on it immediately. There are hundreds of workout songs that'll get you into the right frame of mind to work out harder in the gym.

Studies have shown that music can actually make it more fun to exercise. It can also motivate you to push yourself, which will ultimately lead to you losing more weight than you could have imagined.

14. Ask Friends to Take a Fitness Class

If your motivation levels have been low in the gym lately, think about making one of your weight loss rewards fitness classes with your friends. Whether you choose to take yoga classes, spin classes, or other types of classes, you'll find that you get more out of your workouts when you're in a group.

There are many benefits that come along with working out as part of a group. They include everything from increased socialization to lower stress levels. Give it a shot today.

15. Subscribe to a New Magazine

There is so much you can learn about making the most of your workouts right online. You don't need fitness magazines anymore to obtain workout tips.

But if you still enjoy getting your hands on a magazine every now and then (maybe to bring along with you on your beach vacation?), subscribe to one of the many fitness magazines as one of your exercise rewards.

You can find tips on working out, eating right, sleeping, and so much more in these magazines. And if nothing else, looking at photos of other fit people will give you a kick in the butt and motivate you like never before.

16. Enjoy a Cheat Day

Sticking to a diet day in and day out is a tall task. It can start to feel like it's going to be impossible to do it when there's no end in sight. Enter: The cheat day!

Cheat days give you a chance to eat all the things you abstain from on a regular basis. You can chow down on pizza, brownies, and whatever else you miss eating when you're dieting.

You shouldn't go too crazy with your cheat days and end up slipping back into old habits. But if you indulge every now and again, it can actually help you stay on track as you work towards losing weight.

17. Take On a New Training Routine

After you spend a few months working out and lose a bunch of weight, it's not uncommon to hit what's called a "weight loss plateau." It's when you suddenly stop losing weight after dropping a bunch of pounds.

One way to combat a weight loss plateau is by trying a new training routine on for size. If you've been doing nothing but weight training, give cardio a try. Or if you've been doing nothing but running, try hitting the weights and see how it goes.

By simply switching up your workout, you can shake things up in your body and get it to start burning calories and shedding pounds again.

Start Using These Weight Loss Rewards Now

Losing weight takes a lot of hard work and sacrifice. But you also need to reward yourself from time to time to keep your motivation levels up.

The weight loss rewards listed here should give you all the motivation you'll need to keep working hard in the gym and continue eating right. Work your way through them and reward yourself whenever you need a quick boost.

Contact us today to get the fitness coaching and training you need to keep your weight loss goals on track.

12 Brilliant Gym Tips For A More Efficient Workout

Do you think you're wasting time at the gym? Efficient workouts equal fewer excuses. Here are some gym tips to help you trim the fat off your workout routine.

Do you workout regularly? If so, you're already in an elite group.

According to new research, although more than 75% of people claim they want to get in shape and look great, only 31% actually make exercise a routine habit.

Yet, are you getting the most from your time at the gym? Do you leave with sweat dripping, adrenaline pumping and those exertion-fueled endorphins running in your veins? Or, are you still struggling to see the results you crave?

If it's the latter, you've come to the right place. Today, we're sharing 12 simple gym tips that can help you supercharge your workouts and bump up the ROI on that membership.

Ready to learn more? Let's get started!

1. Start with a Plan

You walk into the gym and take a long look around. There are treadmills on one wall, ellipticals on another and a giant weightlifting area. It's inspiring. It's exciting. It's also incredibly overwhelming.

You spend more than a few minutes figuring out which area you want to visit first and which part of your workout you want to prioritize.

Does this scenario sound familiar?

If so, try planning out your next gym workout. Before you even get in the car and head out, jot down what you want to focus on, how long you want to spend there and in what order you're going to tackle it all.

Doing so not only helps you stay organized and start your workout quicker. It also makes sure your heart rate doesn't drop as you spend time perusing the options. One way to ensure you're always ready to go? Have a backup plan ready in case the machines you want are full.

2. Shorten and Strengthen Your Workouts

It seems like simple logic: The longer you workout, the better you'll look and feel, right?

Not quite.

If your usual gym session includes exercising for an hour or two at a slow, moderate pace, it's time to kick it up a notch. Studies show that interval training, or working out in smaller, 10-30 minute bursts with rests in between, is more beneficial than marathon sweat sessions.

Why? You'll increase your heart rate, build your endurance and maximize your speed when you focus on working your body to its top capacity. When you go for longer, something has to give and it's usually your body's performance.

So, the next time you're looking at the indoor track and dreading that five-mile stretch you've been doing, try tackling one mile instead and see how much more powerful you feel.

High-Intensity Interval Training

A popular way to add shorter, more powerful workouts to your gym routine is to try high-intensity interval training or HIIT training. Put simply, this is the method of dividing your overall workout into blocks of intense exertion along with designated times for rest.

Focus on exercises that get your heart rate and lungs working to their top capacity, and sustain the movements for a few minutes at a time. Of course, if you have any cardio or health concerns, talk to your doctor before trying a HIIT routine. It is also recommended against for those just starting out in their fitness routine.

3. Add Protein

After an especially exhausting workout, your muscles need to rebuild themselves. This is true for both cardio-centric exercises as well as strength-building ones. To amplify the results you'll see and improve your body's ability to bounce back, it can be helpful to add an element of protein into your post-workout meal or snack.

A simple protein shake, made with either whey or soy, is a great way to recharge and refuel after your time at the gym. You can also find protein bars and other snacks that make refilling on the go both simple and quick.

While you sip or munch, you'll be helping your body repair any damage it sustained during your workout. You'll also give your immune system a boost, rebuild your stored glycogen, and regrow your muscles. It's a simple trick that can cap off a great session and help you see results quicker.

4. Pump the Right Tunes

It might sound unimportant, but the idea that the right music can affect your workout is backed by science.

While there is no one-size-fits-all playlist that will make you magically grow those muscles you want, your best bet is to stick to jams that make you feel seriously inspired. From the soundtrack to Space Jam to Madonna, anything goes. One rule? If it puts you to sleep or makes you want to cry, save it for another time.

Instead, invest in a great pair of workout headphones and turn up the dial on those energy-infused rockers that make you want to holler, howl and show your strength. Start the playlist while you're on the way to the gym and let that feeling follow you.

5. Do a Digital Detox

One surefire way to get less from your workout? Hop off the treadmill every five minutes to respond to that group chat, take a picture of your gear or post on social media.

Not only are you allowing your heart rate to fluctuate as you momentarily disengage, but you're also losing that valuable mental focus. If you must have your phone on you, activate airplane or vibrate mode. Otherwise, leave it in the locker room.

6. Know Your Weights

You might be tempted to grab the heaviest weight at the gym to push yourself and look cool, but take a step back from those dumbells.

Using a too-heavy weight is just as ineffective as using one that's too light. When you try to lift a boulder, chances are you can't do many repetitions, if any at all. The ones you are able to manage are likely not executed properly.

On the other hand, a too-small weight isn't activating your muscles effectively. The key is to find that sweet spot. Ideally, you want a weight that requires effort to lift and move but isn't uncomfortable to curl.

It might take some trial and error but look for one that allows you to finish out your rep set. You want to challenged and struggling just a bit on the last few reps, but not throughout.

7. Journal Your Workouts

Just as a dieter monitors what he or she eats, if you want to get the most from your gym exercises, it's helpful to write down your progress.

Keep track of when you exercised, what you did and how you felt. You might keep your notes in an old-fashioned notebook or on a fitness app. Either way, be specific. Note how many reps you did, what weights you used and any other important details.

When you go back the next time, take a look at your notes and see where you can push yourself a little. Add a few more reps, use a slightly heavier weight or incorporate a new machine you haven't used yet.

8. Focus on Compound Movements

Wondering what to do at the gym? Your best bet is to find exercises that pull double or triple duty.

Known as compound movements, these are ones that work for more than one muscle group at a time and at least two of your joints. While there is a time and place for bicep curls and other routines that laser-focus on one area, compound workouts are a great way to maximize your time.

As you do these moves, you'll build muscle mass, exert more energy, and burn more calories. Not sure where to start? Try a simple lunge or squat. Or, take that bicep curl a step further and flow into a shoulder press.

9. Find an Exercise You Love

It sounds simple, but one of our best workout tips is to find a workout routine you actually enjoy doing. If you aren't passionate about something, your initial enthusiasm will only take you so far. After that, you're just going through the motions, often to no avail.

Our interests and goals change over time, so don't be afraid to reexamine your routine every so often to make sure it's still enjoyable.

Whether you love running, biking, hiking, lifting or anything in between, find a workout that brings you alive both physically and mentally. That's the only way to ensure you stick with it in the long run.

Still, need a little motivation to summit that mountain ahead of you? Try reaching out to a personal challenge coach who can encourage you to push ahead on your fitness journey.

10. Fine-Tune Your Form

All the repetitions in the world won't give you results if you're not doing them correctly. While it's fine to add on more weight as you grow stronger, make sure you're not sacrificing your form as you do so.

This is where a personal trainer can be valuable. Work with one at your gym to make sure you're performing each exercise the right way. Doing so can help you prevent injury and safely engage all the muscles you're supposed to be working.

While you're still learning, stick with a lighter weight and focus on maneuvering it before you build up to a higher level.

11. Train Your Brain

Exercise is as much about mental strength as it is about physical. To this end, it's helpful to focus your mind on each part of your workout as you're going through it. Think about the muscles you're activating, your posture, and the form you're trying to maintain.

As you do so, you'll automatically become more invested in the routine rather than just going through the motions. If you find yourself spacing out, talking with others around you or watching the television screen too often, take a break to re-center.

12. Get More Rest

If you think your muscles are working during your workout, you should see them afterward. As your body repairs itself from the exertion and strain you put on it, this is a valuable and important time in your fitness regimen.

If you're pushing through back-to-back workouts without resting in between sessions, you're denying your body that vital time. It's no wonder, then, that you haven't seen the immediate results you're looking for. As your muscle fibers are put to the test, they develop small tears that must heal to grow.

Moreover, the next time you visit the gym, you're not only sleep-deprived and sloppy, but you're also setting yourself up for injury.

Though it might be against your nature to indulge in rest, it's essential that you do so. If you suffer from insomnia or have a difficult time falling and staying asleep, it's worth a call to your doctor to address any underlying health conditions that might be attributed to the issue.

Ace Your Next Workout With These Gym Tips

We all want to make the best use of our time at the gym. It's why we make the trek up there, gear up and carve out space in our schedule to sweat. Yet, it's frustrating to think that you can put so much into your workout and still feel dissatisfied with the results.

That's where we come in.

Our team of coaches is dedicated to making sure you don't run through your next workout aimlessly. We'll work one-on-one with you to help you define, refine and achieve your fitness goals. From the foods you eat to the routines you perform, we understand that great health is a lifestyle, not a fad.

If you're just getting started, our nine-week challenge is a great place to begin. You'll transform your physique from the inside out, learn valuable gym tips and amaze yourself in the process. In the meantime, feel free to contact us with any questions. Your transformation is our motivation!