Keep It Simple: How to Apply the 80/20 Rule to Your Everyday Living
Are you tired of feeling guilty for "cheating" on your diet?
Does the guilt cause you then to overeat for several days afterward which sabotages some of your progress?
Are you looking for an easier way to manage your healthy lifestyle choices? So you can stay on track and finally meet (or maintain) your weight and fitness goals?
If so, then applying the 80/20 rule to your diet and exercise plans may be the right fit for you.
What Is the 80/20 Rule?
The 80/20 rule comes from the famous Pareto principle that 80% of the effects come from 20% of the causes.  While this originally related to the distribution of wealth in Italy, it's now being applied to other things, including healthy lifestyle choices.
By following the 80-20 rule, you will focus on eating well and exercising 80% of the time. For example, eating well and working out during the week, and indulging (a bit) on the weekend. Or, if you tend to go out with your coworkers for lunch on Friday or out with your friends on Friday night, perhaps your indulging days could be Friday and Saturday. The choice is yours.
In short, it doesn't matter which times/meals you choose to have as your 20% indulging time, you need to keep it under 20% of the time.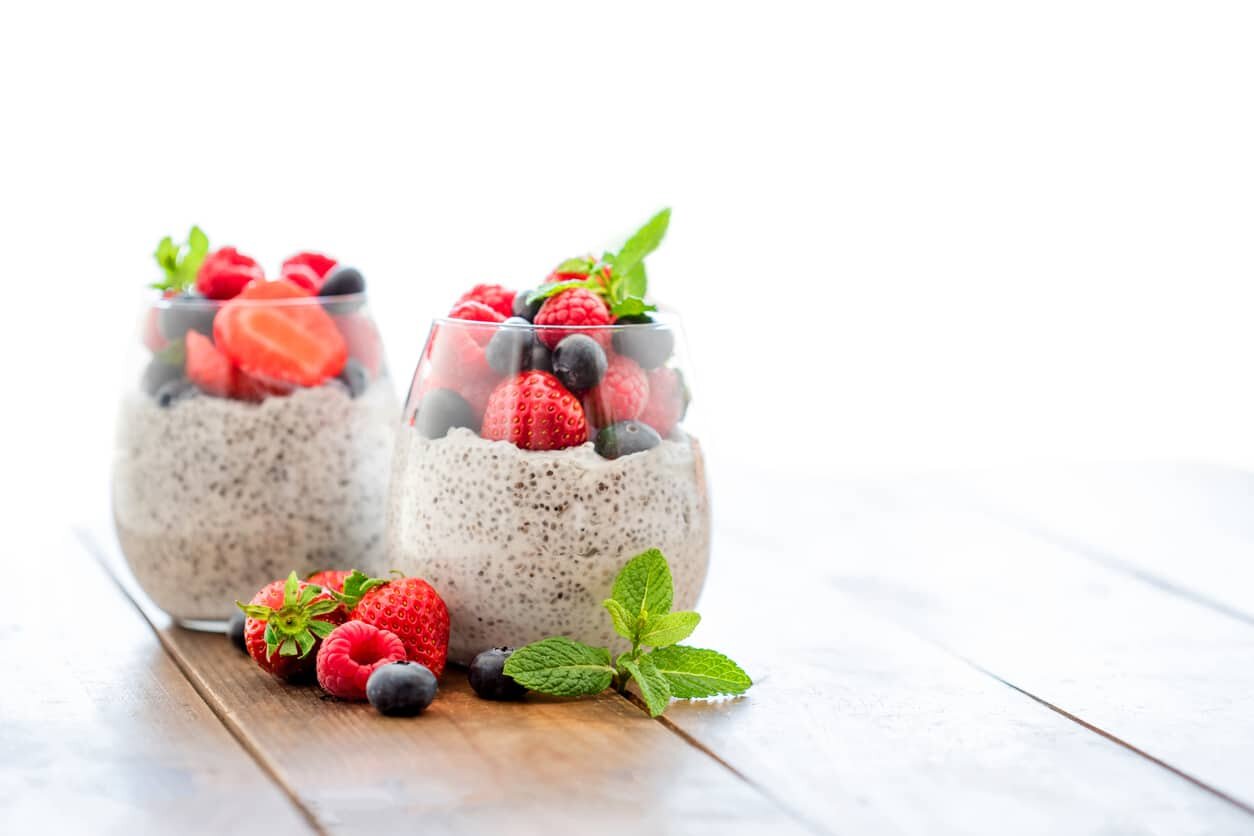 What Can You Eat Following the 80-20 Rule?
For the majority (80%) of the time, you should focus on eating healthy, nutritious foods.
This includes a low-calorie breakfast, packed with protein and fiber to keep you full longer and fight off the desire to snack (or eat those bagels one of your coworkers loves to bring to the office). By limiting your calories at breakfast, you start your day off on the right foot.
Lunch and dinner options can vary widely depending on your personal preferences. Focus on whole foods that offer a variety of nutrients: lean proteins, whole grains, and veggies and fruits chosen from the colors of the rainbow.
For snacks, choose foods like nuts, yogurt, fruits or veggies with hummus or salsa.
During your 20% "indulging" time, try to choose things you really enjoy. Don't grab the first sweet or salty snack that comes your way. Make it something you have been craving all week or that you don't want to live without.
Keep in mind that this doesn't mean you get to eat an entire pizza or a whole pint of ice cream.
While following the 80/20 rule, as with any dietary plan, practicing portion control is a key factor for success.
How Much Exercise Do You Need to Do?
The experts say the average adult should do 2 1/2 hours of moderate activity per week and do muscle-building exercises at least 2 days per week.
This equates to a minimum of a half-hour each day (Monday through Friday) and a weight training session two days a week.
Or, if you prefer or your schedule doesn't allow time every workday, you can add some time to your workouts and cut the sessions down to a few days per week.
How you choose to get your half-hour of "moderate activity" is up to you.
Walking at a rate where you are breathing harder than normal but can still talk well enough to keep up a conversation works fine.
Of course, biking, rollerskating, dancing, running, or any other kind of physical activity you enjoy works just fine, too!
Many may find keeping an exercise log beneficial in making sure they get the right amount of each type of exercise each week.
You just need to get moving. Your heart and body will thank you!
How Can I Live Better in 2021?
It's important to start and maintain a healthier diet. Remember to eat fruits and vegetables, nuts, and grains that will give you energy throughout your day.
How to Maintain a Healthy Lifestyle
Eat more fruits and vegetables and eat fewer carbohydrates, reduce sodium intake as well as bad fats. No need to eat junk food and avoid sugar.
What Are Healthy Lifestyle Examples?
1. Sleep more.
2. Strive to workout at least once per day.
3. Consume more Vegetables.
4. Consume more whole-grain foods and cereals (the less processed, the better).
5. Avoid tobacco and alcohol.
6. Maintain a positive, happy view of life.
Give the 80/20 Rule a Try
Try following the 80-20 rule diet for a few weeks and see how great you'll feel. Say goodbye to guilt and not having flexibility in your healthy lifestyle choices. Losing weight and staying fit doesn't have to be complicated.
The right mindset doesn't hurt either. For more about that, here's a podcast about how to maintain the right mindset to succeed following the 80/20 rule.

You Might also like
Walking for Weight Loss: How to Get Your Steps In and Shed Pounds

Those people who obsess about getting their steps in have a good reason. Here's how walking for weight loss works and some tips to make it work for you.

When you want to lose weight, you've probably researching gym memberships and crash diets. But sometimes all it takes is a few steps. Literally!

If the thought of high-impact exercise is overwhelming, walking could be the solution. Walking for weight loss is effective and low-intensity. This could be the perfect exercise regimen if you're starting your fitness journey.Â

A brisk walk can reduce stress, burn calories and build muscle-so why shouldn't this be a part of your fitness plan?

Walking is a great form of physical activity that's free and easily accessible for most people.

However, there are certain factors that can improve your results. How often you walk, at what speed and where you walk all play a factor.

This article explores how you can walk your way to fitness!

How Long to Walk Each Day for Weight Loss

So how often do you need to walk to lose weight? Less than you may think. A good goal is 30 minutes per day for weight loss.

At a brisk pace, the distance you could cover in 30 minutes cover should be 1.5 – 2 miles or 3,000 to 4,500 steps.

Some days are busier than others so feel free to walk more or less on some days. By the end of the week, you should have walked for at least 150 minutes.

How Fast Should I Walk for Weight Loss

The great thing about walking for weight loss is that you don't have to overexert yourself. Walk at a moderately brisk pace. A great investment would be a heart rate monitor. There are plenty of smartwatches that have them built in.

While walking, your heart rate should be at 60 – 70 percent of your maximum heart rate. You should be breathing heavily enough to make speaking difficult.

Keep in mind that the higher your heart rate, the more calories you burn. You'll get more benefit by increasing the intensity for 10 minutes. But listen to your body. If you need a break, take one. Ignoring your body's signs can cause injury later.

If you're new to exercise, start with shorter periods and build up over time. You could also designate three days each week for your lower-intensity walks.

When it comes to health and fitness, consistency is key. Make it your goal to never go three days without taking your walk. If you find yourself unmotivated, this podcast might inspire you.

This will help improve your fitness level and your metabolism. Your body will begin to learn your new habits. Mental health is just as important as physical. If you find yourself worn out, take a day off.

How Can I Fit Walking in My Schedule?

We get it. Life is busy! Here are some tips to make walking fit in your schedule:

Break it up into walking two or three times a day for 10 minutes at a time.
Break it up into bigger chunks and take your walks twice or three times per week
Make it a family activity. Take a walk after dinner and use this time to bond with your family.
Start a fitness challenge at work to motivate co-workers. Walk as a group during lunch or other breaks. Accountability can help you reach your goals.
Park further at the grocery store! You'd be surprised how many steps you can get in large parking lots.
Skip the elevator. Stair climbing burns more calories than you may think.
Take a brisk walk on your lunch break or after dinner. This will help with that post-meal slump.
Make casual meetings walking meetings instead of meeting in a conference room. Having a change of scenery might even help with creative thinking.Â

Make a plan and write it down! If you fall off for a day or so, don't stress out. You can always pick back up where you left off tomorrow!

How Walking Burns Calories

If you're trying to lose weight, there's a simple formula that you need to know. Weight Loss = Calories Burned > Calories Consumed. You need to burn more than you eat.

Walking is one of the activities you can do to increase the number of calories that you burn.

Think of calories as energy for your body. You need calories for daily activities like moving, breathing, and sleeping. However, some people eat more calories than their body needs.

People who are physically active will burn more calories and lose weight. But, everyone doesn't have the time to lift weights at the gym or cross train. Simply finding a little time to walk each day can help you achieve your weight loss goals.

Let's break it down. Walking for 30 minutes equals 1.5- 2.0 miles. This will burn approximately 200 calories, depending on your sex and weight.

The more you weigh the more calories you will burn. Your body is exerting more energy to exercise so you will burn even more on a 30-minute walk. Another way you can increase the number of calories burned is by adding weights. You can also walk on hills or on an inclined treadmill.

A lot of beginners become discouraged when they aren't able to run for long periods of time. Yes, running will burn more calories, but only about 23 more calories per mile.

Don't worry about running quite yet, walking can burn a significant amount of calories.

If you choose to take longer walks, this can increase your calories burned as well. During the first 30 minutes of exercise, your body burns sugar for energy. After 30 minutes, your body starts using fat as fuel.

Make it a goal to take at least on extended walk per week. This will build your endurance and help you get rid of fat cells!

How Walking Builds Muscle

Most people are unaware of the benefits of building muscle. Building muscle doesn't always mean you're training for a bodybuilding competition. Building lean muscle can help you lose body fat.

Even though walking doesn't involve barbells and weights, it still helps build muscle. It can also reduce age-related muscle loss. This helps you keep more of your physical strength and reduce age-related weight gain.

You may have noticed that walkers have strong and toned legs. Walking builds, shapes, and tones the legs and buttocks. If you're consistent in your walking, you'll notice stronger calves, quads, and hamstrings.

This isn't the best way to "buff up" though. If you want to pack on some serious muscle, consider weight training.

How Walking Improves Mood

Been in a funk lately? Exercise may be the last thing on your mind, but it could actually help you feel better. Exercise can do wonders for your mood.

All kinds of physical activity can decrease feelings of stress, depression, and anxiety. It makes your brain more sensitive to the hormones serotonin and norepinephrine.

These hormones relieve sad feelings while releasing endorphins, which make you feel happy!

It doesn't take a rocket scientist to realize that if you enjoy a physical activity, you'll continue to do it.

This makes walking an excellent choice. It's a moderate-intensity exercise that won't be too physically demanding. Over time, you'll look forward to your scheduled walk and feel great about doing it.

How Walking Keeps Weight Off

Let's fast forward a bit. You've been walking for some time now and you've lost weight. You're happy with your results and simply want to keep the weight off. Walking can play a major role in helping you maintain weight loss.

Remember, people who exercise frequently are usually better at maintaining their weight loss.

When you lose weight, your metabolic rate will drop. This means it will be harder to keep the pounds off. Walking can help prevent muscle loss and help you maintain your results over time. Lean muscle we mentioned earlier will also help you burn more calories, even at rest.

To maintain a stable weight, aim to walk at least 150 minutes per week. Increase this number if you've lost a considerable amount of weight. 200 minutes per week should be a good goal for you.

10,000 steps per day is a good goal for most people. Stay active by walking throughout your week so that your progress isn't lost.

How to Start Walking For Weight Loss

So where do you start? Walking for weight loss can help you improve your muscle, reduce fat, increase mood and more.

The bottom line is that physical activity can help you live a healthier, longer life. 150 minutes of moderate-intensity exercise like walking per week is ideal.

Walk for around 30 minutes at a time at a brisk pace. When this becomes easier for you, go the extra mile (pun intended). You can only reap more health and fitness benefits.

Remember, every little step helps, so start small and increase the amount you walk over time.

Our 21 Day Body Transformation Challenge combines diet and exercise to transform your look. If you want to turn heads for the right reasons, find out more here.

The Office Workout: 8 Fun Office Fitness Tips To Get You Moving

If you have a sedentary job, it's hard to shed the weight no matter how hard you work out at home. Here are some fun office fitness tips to try at work.

One out of every three of adults is overweight. 30% of children are also overweight.

But it's not just about obesity rates. Being overweight can lead to other physical health problems like diabetes, heart problems, and even some cancer. And those are just a few of the health issues those extra pounds have on our bodies.

Many people find it hard to find time to fit in exercise. And they often spend eight hours at work being sedentary. That's why it's time to incorporate office fitness into your place of business.

Adopting the office workout will help you save costs, help your employees, and boost overall morale. To learn more, keep reading. We're sharing with you eight ideas for the office workout your employees will love.

Why Office Fitness is So Important

While it may seem counter-productive to incorporating exercises to do while sitting at a desk, the opposite is true. You'll find you can increase productivity and save a lot of money just by encouraging your employees to exercise while at work.

Let's take a look at some of the reasons why.

Obesity is Expensive

Office fitness is becoming more popular as businesses struggle under the expensive ramifications of obesity. An obese male employee can cost you anywhere from $322 to $6,087 in a loss of productivity.

For females, the estimates range from $797 to $6,694. These ranges aren't for the entire duration of that employee working for you. These estimates are based on how much money you'll lose per person per year thanks to health issues associated with obesity.

Mental Health Issues and Obesity

If that weren't enough, being overweight also has mental health issues associated with it. Depression, low self-esteem, and eating disorders are not uncommon struggles associated with obesity.

This leads to a lowering of your office morale when employees are struggles with mental health issues. And, more losses in productivity.

Office Workout Suggestions

Not everyone is physically capable of doing the same workout. Since people are at different levels in their skills, agility, and health, it's best to incorporate several different exercises at work so everyone can pick their favorite.

Here are eight suggestions with varying degrees of difficulty.

1. A Walking Meeting

Despite our technological advances, sometimes it's best to have a face-to-face meeting with someone. But that doesn't mean you need to be sitting down to do it.

Instead, ask if you can do a walk and talk. Not only will you get exercise, you'll also find that walking helps stimulate your thinking. It's a good chance you'll be more productive while walking than you would during a sit-down meeting.

Also, it's harder for you to be distracted when you're taking a walk with someone. There's less of a chance you'll scroll through Facebook or check your e-mail while you're walking.

Instead, you'll be focused on the person you're walking with. You might even find you look forward to these meetings since your senses will most likely be heightened just by walking around outside.

2. Work Out With Your Colleagues

It's easy to quit and become lazy when there's no one holding you accountable. But when you're in a group, everyone tends to look out for one another.

Groups also help motivate one another. And in one study, it showed that 95% of people who began a weight-loss program with friends stuck with the program to completion.

You'll also get a better rate at a local gym if you get a group to sign up. You can also hire a yoga instructor (or another type of instructor) to come to your work and give everyone a good workout.

Look if there are any exercise clubs at your office. If there aren't any, consider starting your own.

It doesn't need to be fancy or complicated. You can start a walking club that walks three times a week after work.

Or, you can get some co-workers to join an intramural club with you. There are intramural clubs for almost every ability.

Basketball, baseball, and even kickball clubs are all over the place. You can easily find one by doing a quick Google check. Type in "adult (your sport here) leagues in (your city).

You don't need to work out every day, but even meeting a group once a week to exercise will improve your overall health. Also, it's a good way to get to know your co-workers on a more personal level.

3. Swap Your Chair With a Stability Ball

Good posture is important to the health of your body. Having a strong core means that you are less prone to injuries and you get a better overall workout.

But it's not like you can do a sit-up while in your office. At least, not without getting some funny looks.

However, you can invest in a stability ball to get in your abdominal exercises at work. By swapping your chair for a stability ball, you now can sit and work while getting a great workout.

The stability ball forces your body to keep finding its balance. As a result, it slowly strengthens your core muscles.

Better posture can also lead to fewer employees calling out sick due to back problems. This is great since lower back problems cost employers $34,600 per 100 employees annually.

You may find you also are more able to focus when using a stability ball.

4. Use a Height-Adjustable Desk

Many people are beginning to use what's known as an exercise desk to help them burn more calories. It's also known as a height-adjustable or standing desk.

The premise is that standing burns more calories and is healthier for you than sitting for eight hours a day, five days a week is. Which, is mostly true.

Especially if you experience back pain. Standing can help reduce that pain as you're less likely to slump while standing than you would if you're sitting in regular office chair.

However, before going from sitting eight hours per day to standing for eight hours, your body needs time to adjust. Start slowly and build your way up.

Ensure you are wearing comfortable shoes made for standing long periods of time. Standing in six-inch Jimmy Choos isn't going to do your feet or back any favors. You also may wish to sit and stand at specific intervals for best results.

But since studies show that you burn more calories while reducing your risk of certain cancers, stroke, heart disease, it's worth trying this one out.

5. Take a Break Every Hour With Chair Exercises

All work and no play isn't good for anyone. Even when you're at work, taking breaks is highly beneficial.

A five-minute break will help you elevate both your physical and your mental health. You'll also find you're more able to make better decisions when you take a few breaks throughout the day.

A break will restore your productivity, motivation, and creativity levels. You'll also find you can focus better when you give your body and mind a break every once in a while.

Lastly, taking a break can actually help you learn. Use your best judgment as to when and how often to take a break. But at least once or twice a day, use your break to get in some exercise.

There are plenty of different ways to get exercise without leaving your office. Try an under desk workout.

Swivel your chair to work on your abdominals. There are even exercises to do while sitting. You can easily stretch your neck, roll your ankles, and even tone your butt without ever leaving your chair.

6. Get Creative

You don't need a personal trainer just to get a workout. Just moving your body will do the trick.

Here are a few exercises you can easily do at work. They're fun, simple, and a good way to get your body moving.

Cardio

For extra cardio try dancing in your seat every once in a while. This is especially great to do if you just had something great happen at work and are looking to celebrate. Wiggling in your chair along to music, even if it's in your head, burns calories and gets you moving.

Calves

While you're waiting for the copier or printer to finish, kill time by working on your calves. Simply stand with your feet shoulder-length apart in one place and go from standing flat on your feet to being on your tip toes.

Continue repeating these movements until your calves start burning. Or, just do 12-15 reps.

Stapler Curl for Biceps

Your stapler has the ability to act as a hand weight. And you can do this one while sitting or standing.

Grab your favorite stapler in one hand with your palm facing up. Beginning at your thighs, bend your elbow and curl your arm towards your chest.

Pause for a few seconds and then lower the stapler back to your thighs. You can do this for 12-15 reps or until your biceps begin to burn. Don't forget to switch and do an equal amount of reps on both arms.

And if someone stole your stapler or it doesn't weigh enough for you to get a decent workout, try using a filled water bottle or anything else you can find in your office that fits in your hand but is weighted. You can also bring in canned food for this.

Workout Your Shoulders

Building up tension in your shoulders is a common workplace occurrence. Between gaping at your computer all day long and sitting in your chair, it's bound to happen every once in a while.

Now you have something you can do to ease that tension. Roll back your shoulders until the blades are as close together as possible.

Pretend you're holding a pencil between your scapulas. You can always use a real pencil to do this. Hold your position (with or without the pencil) for 5-10 seconds and then release.

Do this 12-15 times for best results.

Pull in Your Core

It doesn't matter where you are or whether you're sitting, standing or lying down, you can always work on your core. The best part is, no one ever has to know.

Start by taking a deep breath then tighten the stomach muscles by bringing them in towards your spine while you exhale. Squeeze your abs for 5-10 seconds and then release.

Repeat these steps 12-15 times each session.

7. Take the Long Way Home

There are lots of ways you can sneak in extra exercise without heading to the gym. You just need to adjust your travel routine a little bit.

Instead of taking the elevator, opt to use the stairs. While you may not want to walk up 14 flights of stairs, you'll still get plenty of benefits by walking down them.

If there's a long way to get somewhere, take it for the extra steps you'll have to walk. Avoid using the phone if you can walk over to see a co-worker in person.

If you take public transportation to get to work, get off a few stops early and walk the rest of the way. Do the same on your way home. Just make sure you wear comfortable walking shoes.

You can also choose to reduce your carbon footprint by walking the entire way or biking to work. Not only will you help the planet, and get exercise, you'll find that you rarely get home grumpy anymore.

That's because your physical commute will have physical and mental benefits to help you work through your day's problems so you can leave them behind you as you walk in to greet your family.

8. Replace Pacing With Sitting While on the Phone

When you do have to have a phone conversation with someone, don't just sit there and talk. Instead, use it as another opportunity to get some exercise.

Stand up and pace around your desk or office. Every extra step you take counts. It also adds up over time.

And your back and neck muscles will thank you for the opportunity to stand up and stretch. You don't need to incorporate formal exercise into your routine, you just need to move more.

Even unconsciously fidgeting helps burn some calories. And again, moving around helps you stay alert, awake, and focused. You may find you no longer need an afternoon coffee to get you past the afternoon slump because you've replaced it with a few extra exercises.

Transform Your Body and Mind

Life is extremely difficult when you don't have your health. And there are so many things you can do to get and stay healthy.

Adopting an office fitness program is one step in the right direction. Another step is taking our 21 day challenge.

Our 21 Day Body Transformation Challenge combines diet and exercise to transform your look. If you want to turn heads for the right reasons, find out more here.

The Most Important Meal of the Day: 10 Delicious Low-Cal Breakfast Ideas You Need to Try

Are you one of the 43% of Americans who are actively trying to make healthier choices in their lifestyle? If you are, you also might be in the 80% of people who believe that eating a healthy diet requires you to make sacrifices.

While you might not be able to eat a daily McMuffin or indulge in bacon fat eggs loaded with cheese and a side of oily hashbrowns, that doesn't mean you have to sacrifice delicious meals while also eating healthier foods.

It might sound too good to be true that you can still eat nutritious low-calorie breakfasts to help with weight loss that taste anything but low calorie.

But it can be done with a bit of meal prep and trying out different recipes that work for you and your taste preferences.

Don't believe us? Well, get ready to be proved wrong. This list of our 10 favorite low cal breakfast ideas and recipes is going to make you a believer.

Thinking of Skipping Breakfast Altogether? Think Again

You might be thinking to yourself that it's better to save on calories by skipping breakfast altogether. But, did you know that skipping breakfast has been linked to an increased risk of heart disease, type 2 diabetes, and obesity/weight gain?

There's a reason that breakfast is known as the most important meal of the day. Scientists believe that getting those essential nutrients and energy from food in the morning is crucial to regulating your hunger throughout the day.

Think about it from your own personal experience: when you skip breakfast, aren't you starving by lunchtime? Aren't you more likely to overeat or overindulge on snacks or at your next meal because you're so hungry from not eating in the morning?

Not eating breakfast can also hurt your overall energy levels and mental performance throughout the day.

You'll feel tired, unmotivated, a lack of concentration, etc. You also won't have the energy to exercise, which is a crucial part of a weight loss journey.

Now that we've hopefully convinced you to stop skipping your morning meal, let's get into some delicious recipes you can try out without going over on your allotted calories.

1. Fruit Protein Smoothie

Not everyone has the biggest appetite in the morning, which can lead to the desire to skip breakfast. But since you now know that you shouldn't do that, even those who can't stomach solid foods in the morning will be able to get the right start with a fruit and protein smoothie.

Studies show that eating protein in the morning can ward off hunger pangs, keep you feeling fuller for longer, and fight off cravings you might have for not-so-healthy foods (looking at you, office donuts).

Loading your smoothies with healthy fruits adds to your daily fiber intake, which can also help keep you full until your next meal, all while staying super low in calories.

Try out this recipe:

1/4 cup of frozen blueberries
1/4 cup of frozen raspberries
1 small container of non-fat yogurt
1/2 cup of milk (either skim, almond, or soy)
1 scoop protein powder

This will make a delicious smoothie that's filling, nutritious, and under 300 calories!

2. Poached Egg Over Toast

Eggs are another excellent protein source to try out in the morning. They're packed with protein, selenium, healthy fats, and healthy cholesterol. They're also naturally low in calories: one large egg is only about 80 calories.

To avoid adding any extra unhealthy calories, don't cook the eggs in butter or oil. You can cook it on a non-stick pan or with zero calorie spray, or you could try poaching or hard/soft boiling it.

Throw two large eggs over a piece of high-fiber multigrain toast, a little bit of hot sauce, and a cup of coffee, and you have a simple and easy low-calorie breakfast that will keep you full and focused.

3. Yogurt and Fruit Parfait

As with both protein smoothies and eggs, yogurt is a high-protein option to add to your breakfast recipe arsenal.

One study showed that people who ate yogurt throughout the week had a lower chance of being overweight or obese. The same study found these results were amplified when those people also ate diets high in fruit.

So combine the two by adding together a container of your favorite yogurt (Greek yogurt is highest in protein!) with some berries and bananas. You can also add in some healthy granola or nuts if you feel like you need to add a bit more substance to the meal.

Really want to cut down on your calories? Opt for plain yogurt with no added sugar and let the natural sugars in the fruit provide the sweetness.

4. Nut Butter, Banana, and Chia Seeds, Oh My!

This breakfast combines three "super breakfast foods" into one amazing meal.

Let's start with bananas. Bananas are super high in fiber while also being low in calories. Fiber, as we mentioned before, can help ward off cravings and keep you feeling full for longer.

Studies also show adding fruit like bananas into your diet is strongly correlated with weight loss.

Chia seeds are also high in fiber, giving the same benefits we've gone over. But, they also have the unique quality of absorbancy. Chia seeds absorb liquid and expand after you consume them.

This will make you feel fuller. These tiny seeds are also high in protein and reduce levels of the "hunger hormone", ghrelin.

Lastly, your favorite nut butter, whether that's peanut butter, almond butter, cashew butter, or whatever, is going to be packed with protein and healthy fats. While nut butter is high in calories, you only need a tiny amount, so it shouldn't overload this recipe.

Take a small amount of nut butter, spread it on a slice of toast, and top it with sliced bananas and chia seeds for the perfect balanced breakfast.

5. Apple Cinnamon Oat Bran Muffin

We bet you thought that you'd have to give up all breakfast pastries to stay low cal in the morning, didn't you?

But these apple cinnamon oat bran muffins are only a little over 120 calories per muffin. They're also packed with protein, glycemic controlling oatmeal and bran, and fiber.

Spread a bit of nut butter or healthy jam on these muffins as you go for a filling and delicious breakfast.

6. Loaded Veggie Omelet

Let's give you another savory option after giving almost only sweet ones. Omelets are notorious for getting unhealthy: remember that huge plate-sized one from your favorite dinner that oozed cheese and oil?

Yeah, this isn't that. It's just as delicious though and probably 1000 times healthier.

You'll need:

Two large eggs
Zero calorie cooking spray
Diced onion
Mixed peppers
1/2 cup chopped broccoli
1/4 cup sliced mushrooms
1/2 cup spinach

All of these veggies are going to add very few calories but plenty of volume and nutrients to this meal. That combined with the eggs is going to keep you full for just around 300 calories.

First, throw the spinach into the pan to wilt. Once it's reduced in size, add in the mushrooms and onion to cook down. Once the onions are translucent, add in the rest of the veggies and season with salt and pepper.

Lastly, add in your whisked eggs and cook everything into an omelet form. Season as you go with some salt and pepper. Dill is another great seasoning to add to eggs.

Top it off with some of your favorite hot sauce, and you have a large and filling breakfast that low in calories that also won't make you feel gross the rest of the day like your old diner favorite probably will.

7. Sweet Potato Breakfast Burrito

This breakfast burrito is packed with food, you'll be shocked to learn that the entire thing is only around 300 calories.

The protein comes from both egg whites and black beans. The black beans are also high in fiber, which you know by now is beneficial for low-calorie breakfasts to stay filling.

Sweet potatoes are high in fiber and have been shown to help regulate sugar levels. They also have healthy carbs that boost your energy and can help you burn calories in between meals. The avocado in this adds the perfect amount of creaminess along with healthy fats.

Here's your ingredient list:

1 low carb whole wheat tortilla
1 large egg (separated white from the yolk)
1/2 of a sweet potato
2 teaspoons enchilada sauce
Cumin, salt, and pepper to taste
Hot sauce (optional)
1/4 avocado diced
1/4 cup of canned black beans, rinsed

Start by microwaving the sweet potato for around 5 minutes, or until it's soft. Remove, separate the flesh from the skin, and mash in a bowl.

Next, beat your egg whites. Add to a pan over medium heat. While the eggs cook, combine your beans and all of your spices in a bowl.

Once the eggs are cooked, remove them from the pan.

Warm your tortilla, and get to burrito making! Add the eggs, potato, avocado, and bean mixture altogether. Before rolling the burrito, add in your enchilada and/or hot sauce.

This goes great with salsa and sour cream. To avoid the calories of sour cream, try plain Greek yogurt for low fat, lower calories, and a boost of protein!

8. Whole Wheat Oatmeal Pancakes

Pancakes are another breakfast favorite you probably thought you'd never see again on a low-calorie diet. As with the muffin, you (fortunately) thought wrong!

This recipe from Sally's Baking Addiction is only 122 calories per pancake. Load two of them up with strawberries, bananas, a bit of peanut butter, and a dash of maple syrup for a breakfast that feels indulgent but still is only about 300 calories.

These pancakes are also filled with excellent sources of protein and fiber. The oatmeal in it has been linked to balancing blood sugar levels, maintaining fullness, reducing appetite, and helping your cardiovascular health.

9. Bacon, Egg, and Cheese Sandwich

Let's end with a staple: the bacon, egg, and cheese sandwich. Are you surprised to see both bacon and cheese on a list of low cal breakfast ideas?

Well, so are we. Both bacon and cheese are usually high in harmful fat and cholesterol. However, this recipe uses lean turkey bacon that's low in fat and high in delicious protein.

It also uses fat-free cheese to keep the fat, and the calories, low while also giving you the delicious bacon cheesy goodness we all crave once in a while.

In total, this yummy and easy to make breakfast sandwich is only around 200 calories. Beef it up with a slice of avocado to add a bit more pizzazz, or keep in simple and plain with a side of berries.

Low Cal Breakfast Ideas to Start Your Day Right

No matter what type of breakfast you crave, you can find at least an idea of what you should eat right here on this list.

Sweet or savory, hot or cold, each one of these low cal breakfast ideas will provide you with key energy and nutrients you need without the excessive calories that traditional breakfasts can bring.

And with the variety you see here, perhaps it gives you a bit more confidence that you can maintain a low calorie and nutritious diet without getting bored or only eating dull and bland salads for every meal.

These meals are also quick and easy to make, so you don't have any excuse not to try them out!

While weight loss and staying healthy doesn't seem as quick and easy as these recipes, it can be. Try out the 21 Day Transformation Challenge to see fast results getting you closer to your dream body with each day!

Contact us with any questions or to get for more information to get started.